On the works of Beat Streuli
Beat Streuli says his work is inspired by "curiosity about other human beings", which leads him to reflect on "how the world looks today and where it might be headed", as the internationally renowned artist explained in a recent video documentary. Streuli has been exploring cities around the world since the 1990s, capturing urban life in photographs and videos. The resulting material then goes through an intensive process of composition and mounting. In everything from serial presentations, wallpaper and video installations to slide shows and books, Beat Streuli deploys an array of techniques to stage-manage his imagery and give it visibility. He frequently moves outside art's conventional context to present his works in spectacular installations in the public space, developing a kind of feedback process in which his street pictures interact with the street itself; he also makes occasional forays into fashion and lifestyle magazines. Streuli is interested in the connections between his works and public life.
Beat Streuli shows people in the urban context, but his images are never voyeuristic. They do not expose anyone, but always keep a respectful distance. Judging and appraising is not his style. At first glance, his pictures seem to have been taken almost casually and without much fuss; but appearances are deceptive. A closer analysis reveals that the details of urban life which he photographs are chosen with care and attention to detail. Colours, objects, people, situations – his is a clear, open-minded gaze scanning the public space and the urban context. To give you an example: we see the indistinct shape of an SUV in the background, an informally dressed man in the foreground who is just turning his head away and holds a newspaper in his right hand, a little awkwardly, because in that same arm he is also holding an object wrapped in plastic. To the right of him is a fragment of a billboard featuring a cool dude in glasses; to the left and to the rear, the similarly indistinct rear view of a man wearing the trousers from a suit but no jacket. Perhaps it's hot.
Like a surgeon, Streuli performs open-heart surgery on the CITY, laying bare the capillaries, arteries and blood vessels. We watch widely differing stories and moods collide, all embedded in an everyday that refuses to disclose its inherent uniqueness. We have no idea what is hidden behind the façade of this normality.
Beat Streuli has developed an aesthetic that is entirely his own. In other words: you recognise a Streuli, and that is down to a series of factors. His works invariably convey an underlying sense of people lost in their own thoughts. We mostly see them proceeding from A to B or pausing briefly along the way, snapshots of individual lives as they are being lived. The faces of his subjects are rarely shown front on: they do not know that they are being watched. They are surrounded by the props of urban life, a staged casualness in which the various layers of urbanity come together to create a mood picture – a complete image that never seems investigative or polemical, neither evaluating nor questioning, but the result of calm observation. Streuli's works draw us into the action, into the midst of the urban heart, and then leave us standing there, feeling at something of a loss. Suddenly we are in the middle of a crossing somewhere in the world, and we see people from every culture under the sun. Some are waiting, some look stressed, others bored. We see people crossing the street, making phone calls or eating a burger. We see people in conversation and others who seem to be in a film of their very own. They stand at street corners, beneath street signs, in front of barriers, amidst the traffic, in front of billboards, all of them fragments of a globalised world. Are we in Brussels? New York? Altstetten? Maputo? We don't exactly know. To look at an installation by Beat Streuli is to be everywhere in the world. And the question of where New York ends and Altstetten begins is of limited relevance. "It's that intimacy played out in anonymity that moves me and can be so revelatory", the artist himself says.
Embedded as they are in current social, cultural, environmental and economic discussions, Streuli's works turn the spotlight on how we envision our own future lives and decide what matters to us. Yet they are never moralistic: they do not raise an admonishing finger instructing us in the right way to do things. In Streuli, then, we frequently encounter opposites: light/dark, poor/rich, orderly/chaotic, calm/hectic, loud/soft. We come up against the tensions between individual and collective, or between personal freedom and communality. Thus Beat Streuli's works give us a gentle nudge which in the end we realise is an injunction to reflect, as he does, on "how the world looks today and where it is heading", and the role each of us has to play in it; on how we interact with each other, the attention we devote to each other in everyday life, the contribution we can make to strengthening society and opening up new conceptual spaces – so that, together, we can rise to the challenges of the future.
Dorothea Strauss
This text will also be printed in the publication Swiss Grand Award for Design 2022 (Scheidegger und Spiess), which will be published in June 2022 as part of the Swiss Design Awards exhibition in Basel. The publication includes a comprehensive interview with Beat Streuli and Dorothea Strauss as well as a picture series on the award winner's work.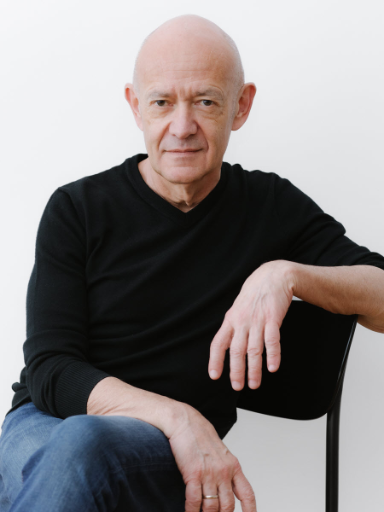 Jurystatement

«Beat Streuli employs photography and video – snapshots, film stills, surveillance images, advertising – to create works of strong visual impact. Using the urban environment as his stage, he captures anonymous subjects in the streets. Though cityscapes form the backdrop of his imagery, it is the human rather than the architectural or structural elements that remain at the centre of his oeuvre. Streuli is one of the leading practitioners of street portraiture.»